Every Single Street · Ghent
Intro
After seeing Rickey Gates' Every Single Street project, I decided I wanted to do the same for my home city of Ghent, Belgium.
Having primarily resided in Ghent since 2009 (with a brief period in San Francisco from 2016 to 2018), Ricky made me realized that I had yet to truly explore the breadth of my own city.
Motivated by his example, I decided to undertake the same challenge: to run each and every street of Ghent, immersing myself in a quest to create a deeper connection with the city I call home and discover unexplored neighbourhoods.
To walk across a place is to truly know a place.

Ricky Gates
Phase 1: the inner city
In January 2019 I started running routes through the streets of Ghent. My plan was to cover all streets inside an arbitrary boundary calling it the inner city.
From the Bourgoyen along the R4 to the Liedermeerspark, continuing along the Schelde to Ledeberg, then following the R40 to Dok Noord and back to the Bourgoyen via the Bloemekenswijk.
However, due to the non-grid layout of Ghent's street plan, achieving complete coverage proved to be a challenging task. As a result, I typically created hand-drawn routes, covering a small part of the city, for each run shortly before embarking on.
I am not a professional or sponsored runner so my attempt was constrained by family, work and social life. All runs started either from the Showpad HQ during lunch, or Dok Noord where I lived at the time. As a result, there were quite some streets I covered multiple times and the distance I had to run before starting to cover new streets increased. As I was not aiming to run the most efficient ESS I just rolled with it.
On September 14, 2019, I did a 35km run covering the outer boundaries of my arbitrary city limit and the inner ring road of Ghent, successfully completing my attempt to run all streets of Ghent.
Spread out over 48 runs, I ran 632.3km.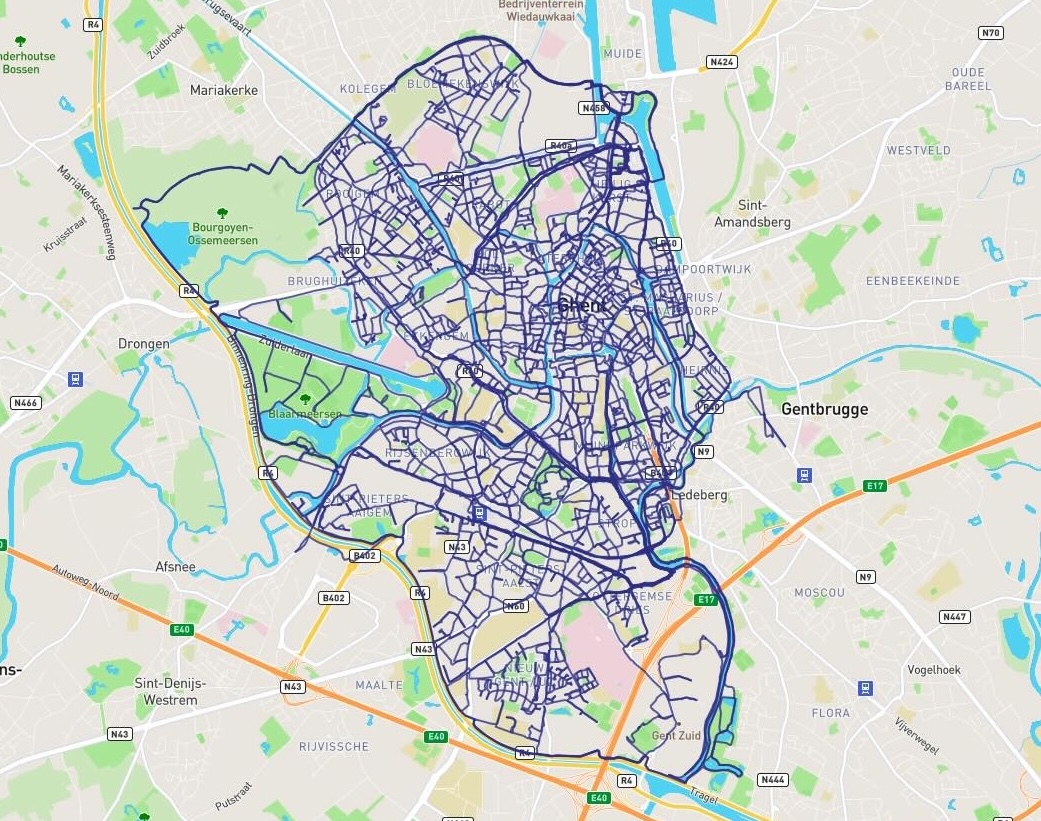 Phase 2: the official boundaries
A while after completing the streets of Ghent's inner city, somebody introduced me to CityStrides. A website that tracks your progress in running all the streets of a city.
After connecting my Strava account, I realized I was not the only person running the streets of Ghent and that I definitely did not run all the streets. Completing phase 1 put me around 35% of the total streets of Ghent.
I decided to continue running the streets of Ghent. I am currently still at it, around 64.6% completion.
To complete all streets, I decided to use all my historical data available on Strava. I also often take my bike to start my run in a different part of the city now.
Progress
According to CityStrides I currently covered 64.6% of the streets of Ghent.